If your vehicle runs out of fuel, a limited supply will be delivered to enable you to reach the nearest service station. 4 Gallons Of Gas Or 10 Gallons Of Diesel Fuel Delivered To Your Location Anytime   (405) 437-8200
We maintain a high level of performance and safety while being your most convenient, affordable and comfortable choice. If your time is precious to you, then be rest assured we value it as high as you do. We treat your time with the utmost importance. Ultimate Reflections Towing is a towing and roadside assistance provider that offers fuel, diesel and gas delivery services in Oklahoma City.
Still concerned about running out of gas in the middle of nowhere? Well, We offer a fast and reliable Fuel Delivery Solution in Oklahoma City to get your car back on the road ASAP.
OKC Gas Delivery
Ultimate Towing Reflections offers Rapid Response emergency service for immediate dispatch of diesel fuel to your location to get your semi truck back on the road when you run out of fuel.
Our semi roadside assistance service team will deliver 10 gallons of diesel and dispense it into your tanks safely and cleanly.
Running out of gas is something that can be easily prevented. You just need to frequently remind yourself about the subject and ensure you check the gas tank prior to driving your vehicle, especially if you're going on a long trip.
Semi-Truck Diesel Fuel Delivery
Our team is trained to not spill and make a mess all over your beautiful big rig. A Supervisor is available to implement starting procedures if a driver is not familiar with how to do that.
Call Us Now at (405) 437-8200 for the fastest roadside diesel delivery in Oklahoma city, Oklahoma.
Forgetting to refill your gas tank and running out of gas in the middle of nowhere can be quite discomforting, especially if you are in a hurry and need to get somewhere important Fast. In times like this, Our fast, affordable and efficient roadside assistance team is here to help. Ultimate Reflections Towing offers Fuel Delivery in Oklahoma City and our reliable team can get across to you wherever you are in OKC. Our team is fully licensed and can assist in whatever roadside need you might have.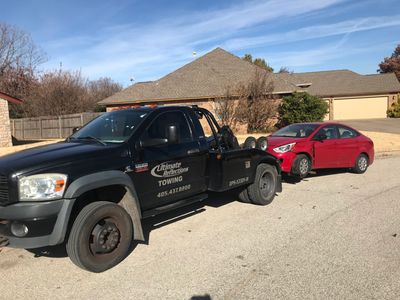 24-Hour Fuel Delivery Service
Your vehicle may run out of gas/diesel at any time of the day. We make sure there is a reliable fuel delivery team on standby, who can assist you anytime you need our help. Our Fuel Delivery Service in OKC is available 24/7. Just give our team a call and tell us your location, and we'll send someone out ASAP. We're a time-conscious company and aim to keep the reputation. We also offer spectacular battery jumpstart services just in case your car needs a jump to get it going, give us a call.